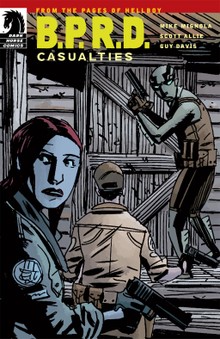 Gaze into the terrifying future with me: a future filled with FREE DIGITAL COMICS!
Yes, it's true! Until July 31st you can come to the House o' Secrets and request your EXCLUSIVE code, good for one (1) totally free, super-badass BPRD story.
SEE the announcement from our generous friends at Dark Horse!
GAZE at the cover of the comic you could soon be reading on your space-tablet-machines, absolutely free!
HURRY, because we have a limited supply of codes, and also because you have to redeem them by the end of the month!
ASK us for one of these lovely coupons: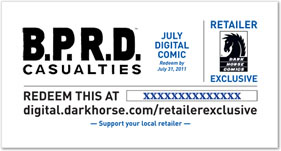 REDEEM IT at http://digital.darkhorse.com/retailerexclusive
READ your delightful BPRD goodness!
And finally…
STAY TUNED! We'll have more codes in the months to come, including, for August: a Buffy comic! Exclusive! Free!
Please forgive me for the outrageous sideshow barker style. I'm just excited.
Comics! Free! Limited time only! All Hail Dark Horse!
(Want a sneak preview?):