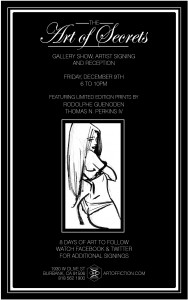 We're having a party!
Allow me to introduce Susan Damon, whose excellent copy I'm stealing from the event page over on Facebook:
"Did you know that Paul Grimshaw and Erik Warfield have their very own publishing company called "Art of Fiction"? Well, you should.
This is the very first event we've held for "Art of Fiction", complete with publications for sale, champagne reception, and artist signings.
A collection of original art, concepts, and prints from Five Color Comics One and Two will be on display and available for purchase. Plus, there will also be limited edition prints by Rodolphe Guenoden and Thomas N. Perkins IV.
For all our loyal customers, old friends, new friends, and hobo drifters wandering past who enjoy art, come celebrate with us.
You don't have to dress up, but we will!
The entire House of Secrets crew can't wait to see you all there!"
Check out the event and RSVP here
(Thank you, Susan!)