Bird? No! Plane? No! It's the House of Secrets Digital Storefront!
We just got it up and running and thought it'd be fun to take it out for a spin, so we made this little tutorial, wherein Paul Grimshaw, Store Owner Extraordinaire (and self-proclaimed Luddite) buys his very first digital comic. He's written here before supporting them in theory, so we thought we'd put his technological tolerance to the test. I think it went well!

(Our infinite gratitude goes to Zeke Pinheiro for shooting this and putting it together for us.)
The story:
The good people over at Comixology (who are pretty awesome, I think) have made available to us (and other Fine Retail Establishments) a pretty amazing option. They've been selling digital comics for a while now, and we know many people, including some of you, our beloved regulars, are taking advantage of that availability.
And we think it's great! It's already helping us out; the other week I was chatting with a customer who bought the most recent issue of Mark Waid's "Irredeemable," and he mentioned that he had stopped reading it a while back when he got behind. Then, on a business trip the previous week, he got a hankering… one downloading-and-reading-on-the-plane binge later, and he was caught up, hooked all over again, and eager to buy the next single issue. So that's a buck or two we got from digital comics before we even had a way to sell them ourselves.
And now we can do both! Please let us know what you think and how you like it; we get the design and content directly from comixology, but they've encouraged us to pass feedback on to their team.
The Links:
Soon-to-be-Frequently Asked Questions:
Q: Do you guys determine what shows up in the store?
A: Right now, no. Everything you can buy through comixology is available through our version of their storefront, though, so we'll get new content as fast as they can put it up.
Q: What's the difference between buying a comic here and buying it at the comixology site or from a mobile app?
A: The difference is that when you purchase something through our site, part of your purchase price goes to the House of Secrets! How great is that? (It's a little like one of your favorite sites being an Amazon affiliate, but for now it's only available to us Dead-Tree-Edition Retailers).
Q: Speaking of apps and iPads and such, can I access your site that way?
A: Yes and no: you CAN read your comics on your iPad, iPhone, iShoePhone, etc. You need to be able to access comixology (which means an internet connection) to get to your collection, but otherwise your collection goes wherever you do.
You CAN'T, however, buy comics through the House of Secrets portal without pointing your browser at it, and it's currently Flash-based, which means no joy on iOS. Comixology is working on that. We could theoretically try to build our own app, but (a) we're not 100% sure how to do that and (b) we're not sure its worth cluttering your desktop with another app just for this. If we're wrong and you would love that, let us know, and we'll make it up as we go look into what that would take.
Q: Can I get my House of Secrets discount on items from the digital store?
A: I'm afraid not. As far as I know, there isn't a way for us to make that available. The pricing schemes are set by comixology and the publishers they've partnered with, so we can't alter them, but you can look out for comixology's frequent sales, and DC Comics, for instance, drops prices on digital copies of new releases by a dollar after 30 days. (We were thinking of spotlighting things that just hit their 30 days. Is that something people might be interested in?)
Let us know what other questions you have, or what you'd be excited to see, or what you think is most hideously embarrassing about our video, and most of all…
THANK YOU, as always, for your support. We were eager to get the digital storefront up and running mostly because you guys kept asking about it; it's an honor and a privilege to have regulars like you all who love us enough to want to support us even with your Digital Dollars. Hold on, I'm getting all sniffly.
Here are a few links to get you started:
FREE: Read the first Batman story ever, from Detective Comics #27

FREE: Preview of "Tumor" from Archaia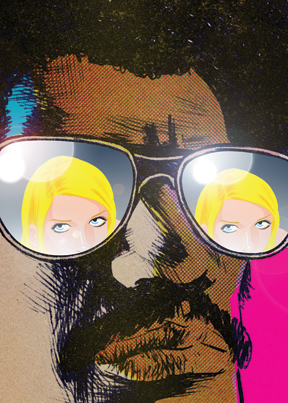 FREE: Preview of "Afrodisiac" from AdHouse Books